Are you thinking about your next new car? Head over to Alfa Romeo of Fresno and check out our new vehicle lineup. If you're instead looking for a reliable, trustworthy auto service center, we can help there too! We offer a professionally staffed service and parts center that takes care of all your automotive needs.
Why Service Is Important
Proper vehicle maintenance is the key to keeping your ride in top-notch condition. Luckily, you can turn to Alfa Romeo of Fresno for any and all your service needs. Our highly trained technicians are able to perform necessary maintenance and repair for your
Alfa Romeo Giulia
or Stelvio. It's vital that you follow your vehicle's recommended service and maintenance schedule. Why? The main reason is that regular maintenance tasks, including oil changes and tire rotations, help prevent premature wear and vehicle-related issues. In our Alfa Romeo service center, we accommodate a full menu of services and repairs.
Alfa Romeo Service Center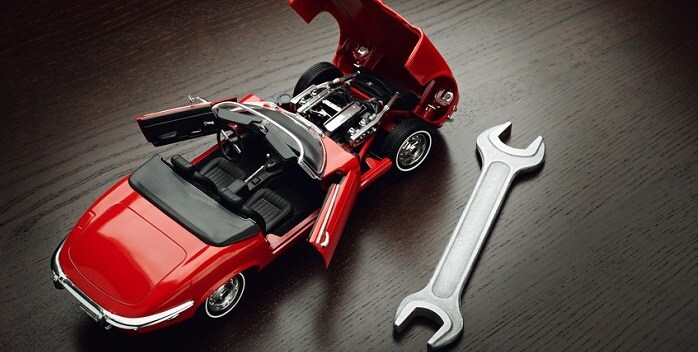 Ready for your next maintenance service? Call us at 888-683-3469 or use our Alfa Romeo Schedule Service form found on our website. We're happy to take care of any maintenance need, from a routine oil change and brake inspection to battery replacement or something more complex like a transmission fluid flush. We even provide complete tire care service, including repairs, rotations, air pressure checks, and purchasing.
When you visit our Alfa Romeo service center, you can wait in our comfortable waiting area or make arrangements to drop off your car. Rest assured our skilled Alfa Romeo technicians will treat your vehicle with care and perform the maintenance work in a timely, flawless manner.
While you're here, you're more than welcome to browse our inventory of genuine Alfa Romeo parts. It's fun to explore the ways in which you can really personalize your vehicle, or amend it with an OEM product, ensuring proper fit and function. If you need a component that's not in stock, we can even assist with ordering. Plus, we perform expert installation.
We look forward to serving you soon here at Alfa Romeo of Fresno. We're located at 6150 North Blackstone Avenue in Fresno, CA. We're proud to be a full-service Alfa Romeo dealership that provides our customers with top-notch vehicle sales and financing, along with service and maintenance options. Visit us today!